Panda Sweeps Horse Racing Tips 12.12.13
Thursday, December 12th, 2013
Good morning sports fans! It's Thursday and we have the hottest betting tips around for everyone in the Panda Sweeps community! Riverside Theatre is primed for a return to the big time – he could be one to watch!
Here we've got the top tips for today's races, from major national newspapers and racing posts, all in one place for your convenience. With horse racing, the excitement never stops – and we've got everything you'll need to know to make those all-important bets today – and maybe pocket some cash.
And take a look below to see how you could win a case of wine for keeping up-to-date with our amazing tips!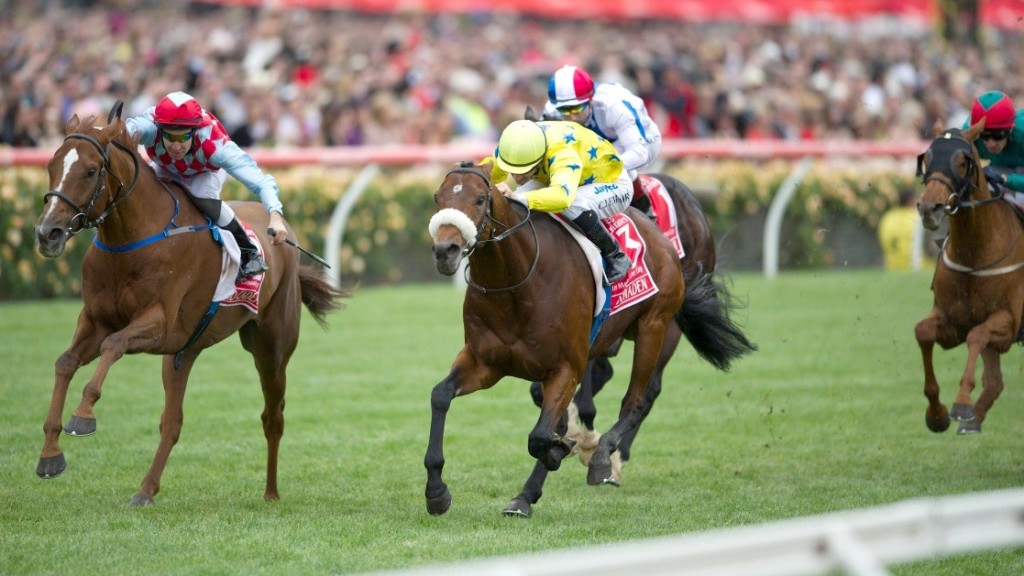 We've got an amazing winning streak, so putting money on our tips could make you some real money! With our top tips consistently winning their races, and many of our other tips placing in theirs each day, you really can't afford to miss out on these red hot racing tips.
But let's have a look at today and racing – and where you should be putting your money.
Not sure what's on today? We've got you covered. Here's a guide to all of today's races.
HUNTINGDON
12:30 Betfred Fun And Friendly Handicap Hurdle Cl4 2m5f110y
1:00 Betfred TV EBF Stallions/TBA Mares' Novices' Chase Cl4 2m4f110y
1:30 Betfred "Goals Galore" Handicap Hurdle Cl3 2m110y
2:00 Betfred Peterborough Chase Grade 2 Cl1 2m4f110y
2:30 Betfred Mobile Novices' Handicap Chase Cl4 3m
3:00 Betfred "Hat Trick Heaven" Novices' Hurdle Cl4 2m 110y
3:30 You'll Love A Bit of Betfred Intermediate Open National Hunt Flat Race Cl6 2m110y
KEMPTON
3:50 Don Silvey 70th Birthday Handicap Cl7 7f
4:20 Dine In The Panoramic Maiden Auction Stakes Cl6 7f
4:50 BetVictor Non-Runner Free Bet Cheltenham 2014 Median Auction Maiden Stakes Cl6 1m4f
5:20 Cheltenham 2014 Nrfb At BetVictor.com Nursery Handicap Cl4 6f
5:50 Back of the Net At BetVictor.com Nursery Handicap Cl6 1m
6:20 Download The BetVictor App Now Handicap Cl2 1m
6:50 BetVictor.com Non-Runner Free Bet Cheltenham 2014 Handicap Cl3 7f
NEWCASTLE
12:20 S V Rutter Novices' Hurdle Cl4 2m6f
12:50 Malone Novices' Chase Cl4 2m110y
1:20 S T P Construction Handicap Hurdle Cl5 2m
1:50 Barbour Handicap Chase Cl4 2m110y
2:20 Complete Building Services Handicap Hurdle Cl5 2m4f
2:50 North Sea Logistics Novices' Handicap Chase Cl4 2m4f
3:20 swarlandfence.co.uk Standard Open National Hunt Flat Race Cl6 2m
TAUNTON
12:40 Higos Insurance Services Bridgwater Handicap Hurdle Cl4 2m3f110y
1:10 Higos Thatch Property Insurance Handicap Hurdle Cl4 3m110y
1:40 Higos Insurance Services Novices' Limited Handicap Chase Cl3 2m110y
2:10 Higos For Your Commercial Insurance Services Novices' Hurdle Cl4 3m110y
2:40 Higos Motor Deal Handicap Hurdle Cl5 2m1f
3:10 Stables Business Park Clients Day Out Handicap Chase Cl5 2m110y
3:40 Higos Insurance Services Langport "Newcomers" Standard Open National Hunt Flat Race Cl5 2m1f
TRAMORE (IRE)
12:35 Buy Tramore Race Tickets Online Mares Maiden Hurdle 2m
1:05 2014 Tramore Members Club – Great Gift For Christmas Maiden Hurdle 2m5f
1:35 Friends Of Shay Barry Novice Handicap Hurdle 2m5f
2:05 www.tramore-racecourse.com Handicap Hurdle 2m
2:35 Follow Us On Facebook Beginners Chase 2m5f50y
3:05 Go Racing In The South East Handicap Chase 2m5f50y
3:35 Ring In The New Year On Jan 1st Ladies Flat Race 2m
Now here's where it gets exciting. We've found the hottest tips out there for you racing fans – check them out and get in on today's action.
| | | | |
| --- | --- | --- | --- |
| TODAY'S TOP TIPS | TIME | COURSE | TIPSTER |
| Roberto pegasus | 1:30 | Huntingdon | Weekender |
| Kingston Eucalypt | 4:50 | Kempton | West Tip, Western Morning News |
| Agapanthus | 2:40 | Taunton | West Country, Racing Post |
| Captain Cat | 6:20 | Kempton | Garry Owen, Daily Record |
| Sir Mangan | 12:20 | Newcastle | Marlborough, Daily Telegraph |
Make sure you get involved in today's amazing races – make the right choice and you could be quids in. We'll see you next time for more racing news and all of the hottest tips out there.
Follow us on Facebook or Twitter to get easy access to ALL of our daily racing tips…
…or if you've got horse racing on the brain and you want the inside scoop and extra Panda tips, register below to keep up to date – and you could win a case of sparkling wine just for registering!
With our winning streak, it's a pretty safe bet. What have you got to lose?
Get Exclusive Panda Sweeps Insider Tips
---
You can rely on Panda Sweeps for everything in horse racing.
---