World Cup Update: Qatar 2022 Was a Mistake
Thursday, June 12th, 2014
As the Brazil 2014 World Cup fast approaches, the spotlight has been put back on to future World Cup hosts, Qatar, due to hold the event in 2022. Our previous report highlighted some of the key concerns raised by Qatar 2022, but a new investigation by the Guardian has shed some more light on the matter.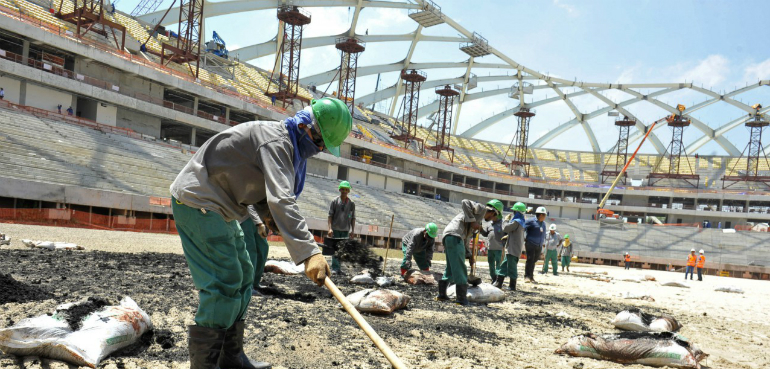 Call For Reform Within FIFA
FIFA president, Sepp Blatter, has been presented with a report by FIFA's independent governance committee (set up in 2011) in response to the recent World Cup scandal in the news. The report details recommendations for reform within the organisation in order to regain trust and credibility.
Corruption and scandal was extensively documented back in 2010, when the FIFA committee gathered to decide the host countries for the 2018 and 2022 World Cup. Numerous board members have been accused of accepting bribes, or swaying their voting. Irrefutable evidence arose that committee members were 'selling' their votes to the highest bidder, meaning Qatar may have bought their 2022 World Cup appointment.
Blatter has denied these allegations – however, he has admitted that there was a definite political pressure for European committee members to vote for Qatar. He has even gone so far as to acknowledge that Qatar "was a mistake, but one makes lots of mistakes in life". But it was unclear whether he was referring to Qatar being awarded the World Cup bid. A FIFA PR officer was quick to clarify that Blatter's response was in relation to hosting the Qatar World Cup during the summer months, due to Qatar's extreme temperatures.
The Committee, overseen by Mark Pieth stated that "if FIFA is to emerge from the scandals of recent years, it must now produce a convincing and transparent answer to any issues relating to hosting decisions, either to confirm that the suspicions are, sadly, well founded or demonstrate that they are groundless".
International Football Turning into a Blood Sport
After an investigation by the Guardian newspaper, Qatar are under fire about their labour laws, being accused of subjecting migrant workers to 'slave-labour' conditions. The labourers working in extreme conditions in the Middle-Eastern country are primarily migrant workers from Nepal and other Asian countries. The report revealed that 44 Nepalese workers died between June and August in 2013, with construction related accidents being one of the major causes.
Qatar has been accused of brutal working conditions, where workers are stripped of their passports on arrival, worked for long hours in extreme heat and forced to live in poverty. Some workers have claimed that their salary has been withheld by employers to prevent them leaving the country.
Qatar imposes 'Kafala' law for migrant workers, meaning they are tied to a single employer who controls their immigration status. This makes it nearly impossible for workers to flee, as they are bound to the will of their employers. There has been pressure from governments and international human rights organisations for major change in the Middle-East where this practice is not uncommon. The International Trade Union Confederation has predicted that if laws do not change to improve working conditions, thousands of migrant workers could die during the construction works in preparation for the 2022 World Cup.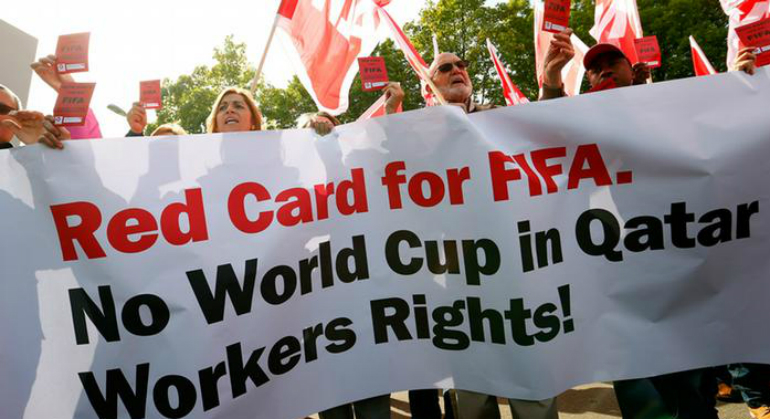 The Qatari government have responded to pressure by agreeing to review their Kafala labour laws. Existing rules "will be replaced by a contractual relationship between employer and employee. We hope that the exit visa will be abolished completely". However, groups like Amnesty International claim that this is just talk, and that immediate and significant action is required to make a change. A spokesperson for Amnesty International stated that they suspect the abolition of Kafala law will only be a "change of name rather than a reform to the system".
FIFA have also been feeling the heat for allowing the World Cup to take place in a country where labour laws like the Kafala system still exist, among other human-rights issues faced in the conservative country. However, FIFA have refused to entertain the idea of awarding the World Cup to another country, instead seeming more concerned about whether or not it will be too hot to host the tournament during the extreme Qatari summer.
Brazil 2014
It's not all bad news for FIFA as World Cup fans continue the countdown to Brazil 2014, kicking off on the 12th June. Excitement is at an all time high as England manager Roy Hodgson has named his final squad for the World Cup, and preparations begin for England's first match against Italy, in the group stages.
Win A World Cup Football!
We're giving one lucky reader the chance to win a Brazil 2014 World Cup football every week. For your chance to win, head over to our Facebook or Twitter page to enter – what are you waiting for?
---