Australian Racing Horses: Hall of Fame
Sunday, August 31st, 2014
Another one of those tireless conversations, who is the greatest Australian horse race of all time? The greatest is incredibly difficult to judge, as we can't measure horses of different eras against each other and we can't put them on a course and have them battle it out. We must try and calculate their results, their opposition, their reputation and their versatility. Here are the horses we believe make the cut.
1. Carbine (b.1885) 43 starts /33 victories/6 seconds /3 thirds (77% win ratio)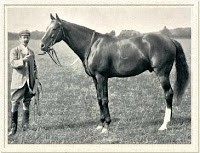 Carbine was so successful that bookmakers banned him from bets at any odds – if you'd been lucky enough to get Carbine in your Panda Sweeps selection email, you'd be jumping for joy before he's even left the stall. This thoroughbred was capable of winning two different races on the same day, accomplishing this on four separate occasions. He won every major race in Australia, most notably the remarkable 1890 Melbourne Cup where he beat a field of 39 starters, set a new race record time and carrying a standing record weight of 66kg. Carbine won 17 of his last 18 races and retired as a five year old with nothing else to achieve.
2. Phar Lap (b.1926) 51/37/3/2 (73%)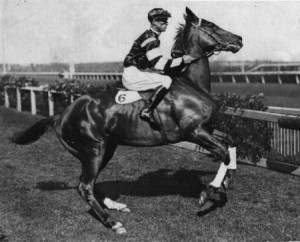 In the early 1930s, during the Great Depression, the people of Australia needed a hero – they needed someone or something to give them some hope. A thoroughbred named Phar Lap, trained by Australian Harry Telford, became the people's champion between 1929 and 1932 by emphatically conquering the racing scene, achieving 36 wins from his last 41 starts. A fortnight after his final winning race, he was struck down by a mystery illness that is still a mystery today – many suspect it was the work of gangsters, which we think sounds entirely reasonable.
During Phar Lap's time on top, he didn't race against many other champion horses (Amounis and Nightmarch aside), but Phar Lap deserves his place in the top 5 mostly on account of the glimmer of hope he represented for the Australian people at this otherwise dark time.
3.

 

Black Caviar (b.2006) 25/25/0/0 (100%)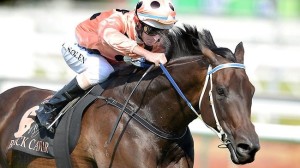 Undoubtedly the greatest Australian sprinter of all time, Black Caviar has an undisputed record against all of her opponents. Major wins of her career include the Newmarket HCP, CF Orr Stakes, three Lightning Stakes, two TJ Smith Stakes and the Royal Ascot Diamond Jubilee Stakes. However, her position in this list suffers due to her lack of versatility in both distances and lack of major handicap wins. If we'd seen her compete in a mile race or with a greater handicap, who knows where she could have ranked in this list.
 4. Makybe Diva (b.2006) 36/15/4/3 (42%)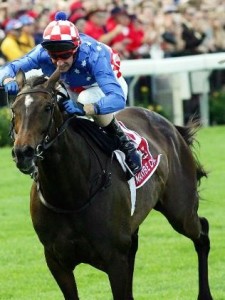 Makybe Diva cannot be overlooked on account of her three straight Melbourne Cup wins, along with other emphatic wins in the WS Cox Plate, Australian Cup, HE Tancred Stakes, Sydney Cup and the VRC Queen Elizabeth's Stakes. Her win ratio is the lowest of the five, but this British born, Australian trained thoroughbred is a certain feature in this hall of fame, with whopping career earnings of $14 million making her the highest earning Australian horse in racing history.
 5. Kingston Town (b.1976) 41/30/5/2 (73%)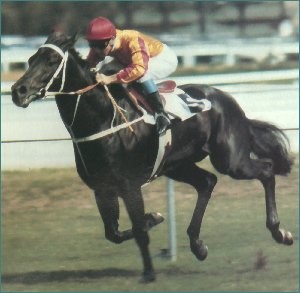 Famously called 'The King', he achieved an unprecedented three Cox Plates and a 21 race winning streak in Sydney. Kingston Town is far from a 'one-trick pony', as he proved by winning a total of fourteen Group One race victories. In the autumn of his three year old season, The King won six races in a row including the Tancred Stakes, the AJC Derby, the Rosehill Guineas and the Sydney Cup – then in the Brisbane Winter Carnival, he extended this winning streak to eight races. At the end of the season he was named Australia's champion racehorse with a record of 14 wins from 18 starts. His final race was the Western Mail Classic in Perth and after his victory and subsequent retirement, the race was renamed the Kingston Town Classic.
In horse racing, everyone has their own ideas when it comes to the best of the best – any of these horses could've stolen the top spot. But in the end, it comes down to which stories have moved you the most, which horse made you some real money in the sweeps, or simply the ones you've got a cheeky soft spot for. If you haven't got a favourite horse yet, what are you waiting for? Get involved in Panda Sweeps' excellent office sweepstakes to take the sweat out of your sweeps.
We want to hear your opinion of the great Australian horse race of all time! Have we missed any sublime horse that you would have in your top 5? Or do you agree with us? Let us know in the poll below.
---