8 Reasons You Suck at Fifa
Friday, January 2nd, 2015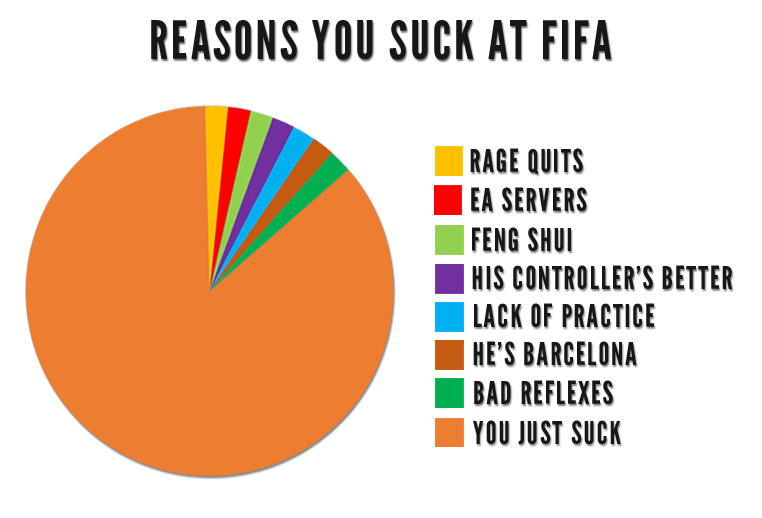 1. RAGE QUITS
It's that bloody temper of yours. If you could just man up and stick it out, you'd be able to compete with mediocre players across the globe – but the fact is every game finishes prematurely (whey) with you screaming, weeping and burning with raging hellfire. Settle down man.
2. EA SERVERS
External factors – totally not your fault. You play beautifully – majestically, even – and the only reason you don't get the recognition you deserve is because of a crappy connection. It doesn't matter if you can't prove it, we believe you.
3. FENG SHUI
This is a very serious gaming issue. How are you expected to Fifa when your Qi's all over the place? It's not on – do a little domestic readjustment, balance those elements and that should sort you right out. It's not okay if end tables are touching.
4. HIS CONTROLLER'S BETTER
Since you're so generous and selfless and brilliant, you've given him the better controller which is why he brays you every single time. He might think he's winning right now, but you'll be the one laughing when that Nobel Prize comes your way.
5. LACK OF PRACTICE
Even though you suck at Fifa, you're actually still a good person because you've been out having a social agenda and generally doing outside stuff while those other losers were inside practising. Sure, they're better than you – but you're better at life.
6. HE'S BARCELONA
No explanation required. He's Barca and you're not Barca and you were doomed from the start. The downside is that as long as you continue not to be Barca, you're on a loser. The good news is he's probably overcompensating.
7.  BAD REFLEXES
Simple genetics. Losing's in your DNA and there's not a whole lot you can do about it. We know it's embarrassing – let's just hope this gene skips a generation and your offspring don't have to suffer the same humiliation.
8. YOU JUST SUCK
Sorry.
---