2014 World Cup A-Z: Group A
Monday, April 14th, 2014
The 2014 FIFA World Cup in Brazil is fast approaching, with the first group match kicking off on Thursday 12th of June – Brazil vs. Croatia. Over the course of the group stage, 32 teams from around the world will compete for a place in the knockout round of 16, battling onwards for World Cup glory! Pepper's been busy and he's brought you a breakdown of all the groups, team-by-team – the cheeky devil. Follow our sports blog for regular World Cup updates as we get stuck into the game, bringing you the latest news, guides and predictions.
Group A
The first World Cup grouping consists of Brazil, Croatia, Mexico and Cameroon. We're breaking down the group stages team-by-team with our winner predictions!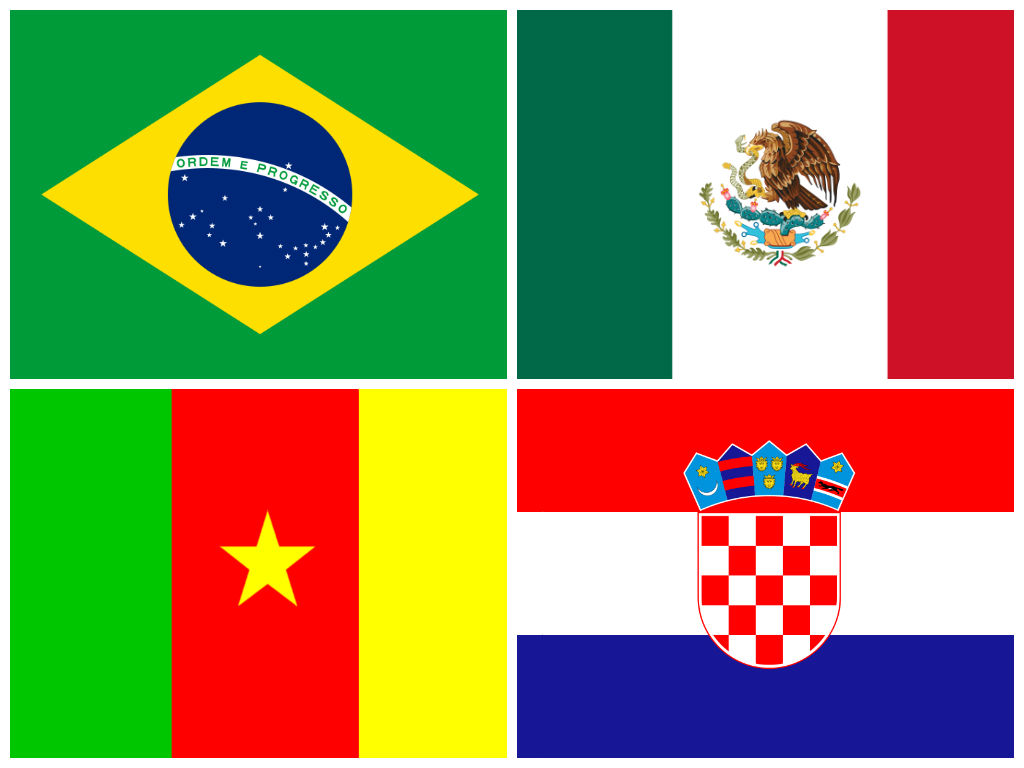 Brazil
FIFA Ranking: 6
With the home field advantage, Brazil are firm favourites for the World Cup. The whole country is famously football mad, with local supporters outnumbering the competition – so Brazil are sure to feel the love this year. This is despite their disappointing performance in the last World Cup – Brazil was knocked out when they lost to the Netherlands in the quarter-finals in 2010. This year, Brazil have returned with a fresh line-up of younger players under the watchful eye of Luiz Scolari, the manager that secured them the Cup back in 2002.
Croatia
FIFA Ranking: 20
Brazil 2014 will only be Croatia's fourth time competing in the World Cup – but it'd be foolish to disregard them, as they placed third in the French World Cup in 1998. This could be one to watch, as Croatia has a very strong team, including Real Madrid's Luca Modric and Bayern Munich's Mario Mandzukic. The other teams in Group A would be well advised to keep an eye on the serious talent Croatia is packing this year.
Mexico
FIFA Ranking: 19
Mexico have competed on and off in the World Cup over the years, making it as far as the quarter-finals in 1970 and 1986. After a problematic 2013, Mexico only just secured a place in this year's World Cup, winning against New Zealand in the qualifiers. Manchester United striker Javier Hernandez is Mexico's star player, and the pressure will be on for him to win some points during the group stage.
Cameroon
FIFA Ranking: 50
Cameroon's best success was in 1990, when the Central West-African team made it as far as the quarter finals. Their performance at the last World Cup in 2010 was disappointing – only making it as far as the group stage – with the team placing 31st. However, Cameroon remain a force to be reckoned with, as key players like Chelsea striker Samuel Eto'o bring some serious talent to the table.
So Who's Playing Who?
Pepper's got the scoop on the Group A matches – when they're happening, where they'll be played and what time they'll be on telly! (We've even put the times into GMT so you don't miss the action due to the pesky time difference – you'll thank us later).
Brazil v Croatia, Sao Paulo – 12 June 21:00 – World Cup opening game
Mexico v Cameroon, Natal – 13 June 17:00
Brazil v Mexico, Fortaleza – 17 June 20:00
Cameroon v Croatia, Manaus – 18 June 23:00
Cameroon v Brazil, Brasilia – 23 June 21:00
Croatia v Mexico, Recife – 23 June 21:00
Group Stage Predictions
Only the two teams with the most points will move forward from the group stage to the round of 16, getting one step closer to the World Cup. A 1st and 2nd place will be awarded to the two teams with the highest and second highest score within their group. So who does Pepper think will come out on top of Group A?
1st: Brazil – Because it would be rude not to. The host country team are firm favourites for the Cup – having won the World Cup 5 times in the past, most recently in Korea 2002 – let's see if history repeats itself.
2nd: Croatia – Controversial, as they'll play the opening match against Brazil – however, Pepper reckons strong key players will help Croatia secure a place in the knockouts.
Knockout Predictions
The two winning teams from Group A will go on to play against the winners from group B and so on. The winner from each group will play the runner up from the other group in the first of the knockouts, the round of 16. The winners of Group A will face some serious competition from those who made it through group B. Deemed one of the strongest groups in this years World Cup, featuring Spain, Netherlands, Chile and Australia.
Brazil vs. Netherlands – Winner: Brazil
Netherlands have also been placed in Group B and all odds are on them making it through to the knockouts, leading to a potential Brazil vs. Netherlands match – now that's a football game the world is waiting to see. If this match materialises, we reckon Brazil will be crowned the winners – Netherlands might be tough opponents, but we think the home field advantage will help Brazil pull this one out of the bag.
Croatia vs. Spain – Winner: Spain
We expect FIFA ranking favourite Spain to win the group rounds for Group B, leading to this potential match against Croatia. Pepper's money is on Spain in this hypothetical face off. Croatia might be good, but they aren't Spain good. In fact, we wouldn't be surprised if Spain is in the final.
2014 World Cup Groups Summary
Don't forget to come back and visit our sports blog as we continue our in-depth analysis of each group as the countdown to the 2014 World Cup continues.
Group A: Brazil, Croatia, Mexico and Cameroon
Group B: Spain, Netherlands, Chile and Australia
Group C: Columbia, Greece, Ivory Coast and Japan
Group D: Uruguay, Costa Rica, England and Italy
Group E: Switzerland, Ecuador, France and Honduras
Group F: Argentina, Bosnia and Herzegovina, Iran and Nigeria
Group G: Germany, Portugal, Ghana and the United States
Group H: Belgium, Algeria, Russia and South Korea
Win A World Cup Football!
We're giving one lucky reader the chance to win a Brazil 2014 World Cup football every week. For your chance to win, head over to our Facebook or Twitter page to enter – what are you waiting for?
Want to place a bet on who will win the 2014 World Cup? You're in luck – Pepper has joined forces with SkyBet to offer you a chance to win a free £100 bet. To bag your chance to win, create and deposit in a SkyBet account today.
If you fancy getting involved in the World Cup action, head over to Panda Sweeps to organise a sweepstake with your friends, colleagues or family. Panda Sweeps takes all the effort out of organising a sweepstake and does the hard work for you. Check out our sports blog for the latest sporting news and tips.
---